COMPLETE SETS OF IVORY COATED ALUMINIUM CURTAIN TRACKS & ALL FITTINGS
TRACK PRICES FOR DELIVERY TO UK MAINLAND ONLY
We cannot send overseas due to Shipping costs, this includes Northern Ireland
COLLECTION By Appointment only from Banstead Surrey

IF YOU BUY IT NOW PLEASE PROVIDE A PHONE NUMBER FOR THE COURIER
1 x 1 metre £25.50 DELIVERED (Collected £16)
including 25 Hooks and 25 Gliders, 1 Pair of End Stops & Screws
including courier charge

1 x 1.5 metre £28 DELIVERD (Collected £18.50)
including 25 Hooks and 25 Gliders, 1 Pair of End Stops & Screws
including courier charge


CAB SET £46.50 DELIVERED (Collected £37)
2 x 1.5m + 50 Hooks & 50 Gliders, 2 Pairs End stops & screws
including COURIER Charge

CAB & REAR SET £64.75 DELIVERED
(Collected £55.25)
3 x 1.5m + 75 Hooks & 75 Gliders, 3 Pairs of End stops & screws
including COURIER Charge

BAY/T25 (NO CAB) JUST THE REAR £121.50 DELIVERED
(Collected £85.50)
1 x 1.5m (Rear) + 2 x 2.5m (Sides)
100 Hooks & Gliders, End stops & screws
including EXTRA LARGE COURIER Charge & Cardboard Tubing @ £36

SPLITSCREEN (NO CAB) JUST THE REAR £105.50 DELIVERED
(Collected £69.50)
1 x 1.5m (Rear) + 2 x 2m Sides)
100 Hooks & Gliders, End stops & screws
including EXTRA LARGE COURIER Charge & Cardboard Tubing @ £36

BAY/T25 FULL SET £147.25 DELIVERED - 9.5 metre set
(Collected £111.25)
This could also be used for 13 window Split
2 x 1.5m lengths (Front) 2 x 2.5m lengths (Sides) 1 x 1.5 (Rear)
125 Hooks & 125 Gliders, End stops & screws
including EXTRA LARGE COURIER Charge & Cardboard Tubing @ £36


11 Window Splitscreen FULL SET £140.50 - 8.5 metre set (Collected £104.50)
2 x 1.5m lengths (Front) 2 x 2m lengths (Sides) 1 x 1.5 (Rear)
125 Hooks & 125 Gliders, End stops & Screws
including EXTRA LARGE COURIER Charge & Cardboard Tubing @ £36

HOOKS

125/150 Recommended for a full van, the more you have, the better they hang!
GLIDERS

125/150 Recommended for a full van, the more you have, the better they hang!

END STOPS
These go in the end of the track to stop the gliders from falling out, can also put the last hook of the the curtain through this ring to keep in place
CLOSING TOOL

You will need this if you are purchasing Popper kits below
POPPER KITS

POPPER KIT x 5 (20 Pieces)
POPPER KIT x 10 (40 Pieces)
POPPER KIT x 15 (60 Pieces)
IF YOU BUY TRACK SETS THROUGH "BUY IT NOW" PLEASE PROVIDE A PHONE NUMBER FOR THE COURIER

THIS IS DELIVERED BY COURIER. AFTER PAYMENT RECEIVED DELIVERY WITHIN A COUPLE OF DAYS.

HOOKS & GLIDERS
Due to our new supplier these prices have been reduced .. happy days!
THESE CAN NOW BE PAID FOR BY PAYPAL ABOVE
      

GLIDERS
25 - £3.75 ~ 50 - £7.50 ~ 75 - £11.00 ~ 100 - £14.50 ~ 125 - £16.00 ~ 150 - £20.50

HOOKS
25 - £4.50 ~ 50 - £9.00 ~ 75 - £13.50 ~ 100 - £18.00 ~ 125 - £22.50 ~ 150 - £27.00

125 Hooks & Gliders - £38.50 Minimum recommended for a full van

END STOPS ~ £2.50 per pair


POPPER KITS X 5 (20 Pieces) ~ £3.00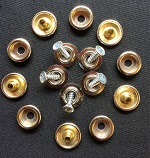 POPPER KITS X 10 (40 Pieces) ~ £6.00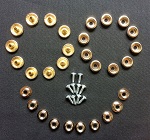 CLOSING TOOL FOR POPPERS~ £4.50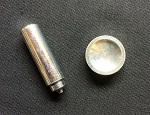 PLASTIC COATED WIRE £1.00 per metre INCLUDING HOOKS/RINGS, an alternative to track for side and rear curtains, you can also use to tuck the curtain hem into, or slide a curtain hem through.


MAGNET FASTENINGS for the bottom hems £2.50 per pair (per curtain) THESE ARE STRONG ENOUGH TO DO ALL 4 CORNERS, SAY FOR THE SPLITSCREEN, BUT WOULD BE A NIGHTMARE TO STORE AWAY, AS THEY HAVE SUCH A STRONG MAGNETISM.

THE PICTURE BELOW SHOWS A LOOP HEADER TAPE AND THE GLIDER THAT FITS DIRECTLY INTO A LOOP ON THE TOP OF THE HEADER TAPE AND DIRECTLY INTO THE TRACK
WE DO NOT DO THIS SORT OF HEADER. IT IS EXTREMELY EXPENSIVE FOR WHAT IT IS AND WE WOULD HAVE TO PUT £15 - £20 ON THE PRICE OF EACH SET OF CURTAINS TO ALLOW FOR THESE COSTS.

HOWEVER ..... OUR HOOKS AND GLIDERS WILL FIT YOUR TRACK, WE THINK IT IS A BETTER, MORE MANAGEABLE SYSTEM AND WILL COSTS £38.50 FOR 125 HOOKS AND GLIDERS.